Data needed to complete investigations
During criminal investigations, time matters – and criminals know it. Quickly switching phones and telephone numbers from one Service Provider to another is one of the most effective ways for criminals to evade detection. To save valuable time during investigations, law enforcement and public safety personnel can benefit from finding which Service Provider owns the telephone number and getting the law enforcement emergency contact information for that Service Provider.

This information can be obtained by knowing the telephone number's Service Provider on record, which is stored in the country's Number Portability Administration Center (NPAC). The NPAC is the nation's authoritative number portability database, and PortData Source is the most effective way for law enforcement personnel to definitively verify the Service Provider on record and access the porting history of telephone numbers. PortData Source provides two ways for users to access this information: Enhanced Law Enforcement Platform (ELEP) and Interactive Voice Response (IVR).
 
Enhanced Law Enforcement Platform (ELEP)
A subscription, web-based service that allows you to access more in-depth information such as Service Provider history and the current Service Provider for ported numbers.
You will also be able to search for a specific phone number or a range of numbers.
Interactive Voice Response (IVR)
A free, phone-based service that allows your organization to call anytime and anywhere to quickly determine the current Service Provider for a ported number as well as the provider's law enforcement contact.
There is no limit to the number of calls you can make.
PortData Source Eligibility
Who is eligible for PortData Source ELEP and IVR services?
Law enforcement agencies, or officers of such agencies, of the US or a State or political subdivision empowered by law to conduct investigations of, or to make arrests for violations of federal, state or local laws.
Public Safety Answering Point (PSAP) entities of the US or a State or political subdivision, empowered by or contracted under law to operate or administer a PSAP facility to receive 9-1-1 calls, dispatch emergency response services, or transfer or relay 9-1-1 calls to another public safety operator.
Qualified companies, not law enforcement entities, can become an ELEP Clearinghouse, which authorizes the company to provide US NPAC data to law enforcement agencies or PSAPs.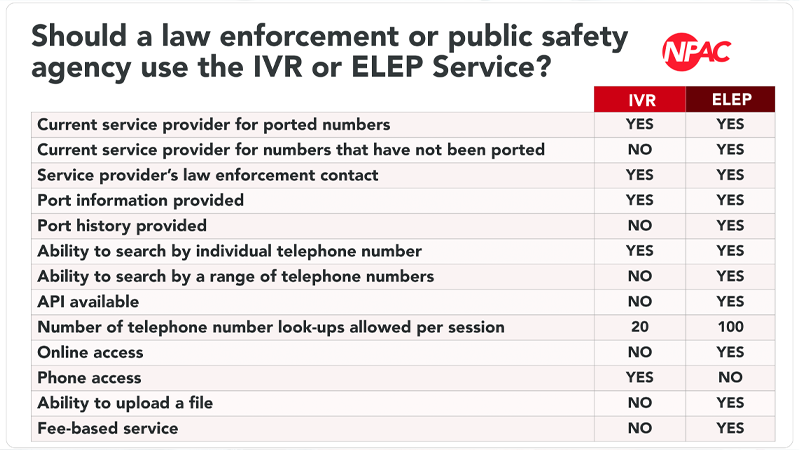 Register for PortData Source
Before registering, law enforcement and public safety personnel should first decide what service(s) best fit their needs: ELEP, IVR or both. The Comparison Chart highlights the differences between the two services to assist in the decision-making process.

Each service has its own registration form, which can be submitted at the individual or agency level. Agencies interested in both the ELEP online subscription service and the IVR free, telephone service must submit a separate registration for each one.
What is the NPAC?
Every year, millions of Americans change Service Providers while keeping their telephone number. This process, known as portability, is supported by the Number Portability Administration Center (NPAC). Comprised of seven regional systems across the U.S., the NPAC manages the number portability processes of all telecom Service Providers in the United States, including wireline, wireless, and Voice over Internet Protocol (VoIP). The NPAC is managed by iconectiv, serving in the capacity as America's Local Number Portability Administrator (LNPA).
learn more